Pool Party!
We threw a killer pool party yesterday in honor of Memorial Day, and Jason's dad being out of town thus giving us access to said pool for party with no parental supervision. Awesome!
...

A little sunbathing (guess who has lobster red shoulders today).
...

Protect your eyes, the whiteness reflecting off my legs may blind you. Even after yesterday's efforts my legs will not take any color...ever.
...

...

Despite Dexter looking interested in the water here, he did not so much enjoy the pool. We put him in on the steps, where he stood and shivered for a while and promptly jumped out as soon as we let him. He also didn't seem to like any of us swimming either, it freaked him out a bit. Oh, well. Sadie and Cali were on hand to play with, so I think the party was a hit with the dogs despite their lack of interest in swimming. And there were hot dogs.
...

Look, a surprise guest! It's Yoni!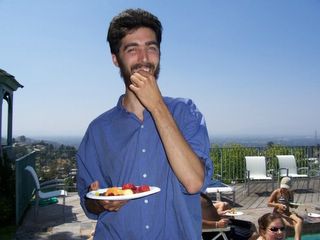 ...

Everyone is very excited to see Yoniton. Thanks for coming over, even if it was just for a little while.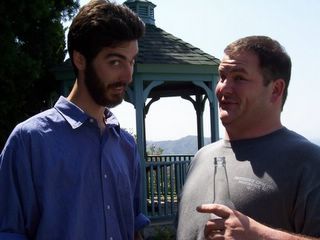 ...

This was a lot of fun! Thanks for coming everyone. Hope we can do it again really soon.