AIDS Walk 2005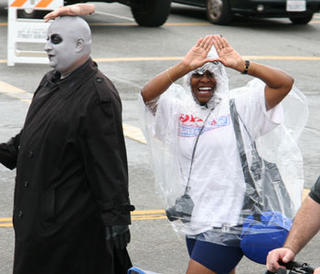 I saw this guy at the opening ceremony but wasn't able to get a good shot. Luckily I found this pic on the AIDS Walk website. This is an awesome Fester costume, the Thing on his head moves and he had a bunch of lightbulbs that would light up when he put them in his mouth. And he had a glass with water and dry ice. Very elaborate and cool!
Jason is such a trooper. He had some nasty blisters from breaking in his new sandals while hiking the day before. But he made it! And only complained a little ;~)
Thank you so much to all our supporters! Because of you the walk was a great success, raising over $3 million for APLA.