It's Electric!
Last Saturday was the big to do party of the year for the non-prof I work for. It's on the lot of Paramount studios, and it was so mad hot I thought I would melt right onto the asphalt before the party even got started. I shouldn't complain too much, I didn't have to show up until 4:30 in the afternoon and some of the event staff and volunteers had been there since 8am! I would have died.
I was stuck at the VIP red carpet area until about 9. There was some lightning going on, we were afraid it was gonna rain on our party but we lucked out. After I finished my shift I was free to roam the party with Jason and see the live music. So, the exciting part: I saw Deborah Gibson! (don't you dare call her Debbie). Yes, the famed pop princess performed "Shake Your Love", "Electric Youth", and some other jazzy Broadway type numbers. This girl has still got the pipes and the spunk.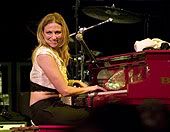 And now, the magic.
Deborah Gibson and Jordan Knight, yes
that
Jordan Knight, sing the duet "Say Goodbye" together for the first time ever. If I had my pick of any NKOTB member I totally would have voted Joey, but this was still exciting for the nostalgia factor if nothing else. I'm not going to say the performance was spectacular or anything, Simon Cowell would have taken Jordan down, but it was still fun.
Now give me some Sugar!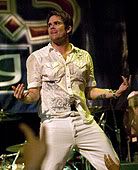 That's Mark McGrath of Sugar Ray. He was pretty hot…I mean sweaty of course ;) And seemed a little drunk. But this was a fun performance as well.
There was an auction, and dancing, and I did the "Smirnoff Experience". A fun night, but I felt so sorry for the people that had to work all day on this thing, I got off pretty easy. I'm glad this only happens once a year because it's exhausting.