Pancakes, stir fry, and produce, oh my!
I made these
flax berry pancakes
for the first time in a while. I made them with whole wheat pastry flour and frozen blueberries since that's what I had on hand. Jason made his with bananas and chocolate chips instead of berries. They are super tasty and easy.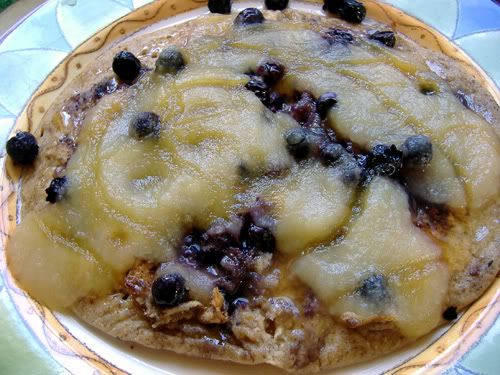 I like mine topped with a few extra berries, unsweetened applesauce and a drizzle of organic maple syrup.
This is just a super easy stir fry, but it was so photogenic I thought I'd share.
I sauteed some veggies in light oil.
I tried the tofu trick where you freeze it and press out the water while it defrosts. It makes the tofu spongy in texture and it really soaks up that sauce! I rather like it. I used a new flavor of Soy Vay sauce.
Over a bit of brown rice this is a quick and tasty dinner.
This orange reminded me of how naval oranges got their name. I think this one's a outie.
Cherries! Oh, how I love thee. I got these at the Koreatown farmer's market. They didn't last long after this picture was taken.