Farmer's Market Friday
This week's booty:
heirloom tomatoes (for $1/lb! unheard of)
1 cantaloupe
1 bag string beans
3 large white nectarines
1 bag yellow squash
1 bunch asparagus
2 pink grapefruit
I didn't get too much this week, I have plenty of food at home at the moment. I just had one of the tomatoes sliced up on a whole wheat cracker with hickory smoked Tofurky slices. So yummy, I'm going to be very sad when heirlooms disappear from the markets again. Seems like they're in season for such a short time.
I am having an awesome week at the gym. I went to yoga class on Sunday and on Monday, did my upper body lifting and 30 min on elliptical on Tuesday, took Wed as a rest day with just walking, and went to spinning last night. I even did abs and push-ups after spinning. I have no idea where all this motivation came from, but I hope it sticks around. Hopefully I'll hit the pool over the weekend, or maybe just go to the beach for some boogie boarding. If I get really crazy I might go to pilates ball tomorrow.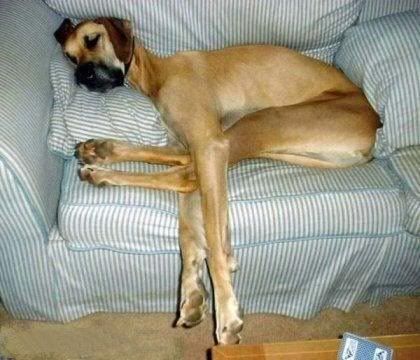 This pooch is definitely doing his yoga, look how limber. And getting beauty rest at the same time. That's talent.
Happy Friday!