VwaV (finally) and an LA weekend
I had a pretty busy and productive weekend. Most exciting of all, I finally got my hands on a copy of Vegan with a Vengeance! I don't know how I lived without it. I started with the chocolate chip cookie recipe. I've been trying to lay off the baking because large amounts of baked goods in the house can only mean trouble, but it was Jason's dad's birthday. And it is just rude to let someone's birthday pass by without baking them something.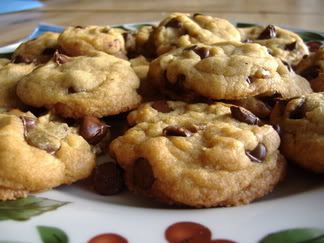 The recipe begins with a disclaimer that these are not healthy in any way. And they aren't, but damn are they good. The batter was a little too crumbly after it was mixed so I added a couple small splashes of soymilk at the end. There were so many chocolate chips that there were some left in the bowl that the batter just couldn't hold, so I went and shoved them into the top of any cookies I could find an empty spot on (not easy!). I made some with walnuts and some without, because for some crazy reason some people don't enjoy walnuts in their cookies. I gave away most of the cookies and kept a small stash.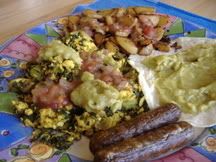 For Sunday breakfast we made the tofu scramble. We didn't have cremini mushrooms, so we just used the few white mushrooms we had as well as some squash and some frozen chopped spinach, defrosted and drained well. It was very tasty. I'm still having issues with the nutritional yeast, it by no means ruined the dish for me but I just am not fond of the smell.
I can't wait to make more delicious food, this will be a well used cookbook for sure.
I managed to get plenty of exercise in this weekend. On Saturday I went to the gym for pilates ball and swam laps, and yesterday I went to the beach and boogie boarded and worked on my tan for a couple hours, walked my dog and a friend's dog, and then practiced rollerblading with my dog. At first it was a little scary to be going so fast, but after a while we got the hang of it and I was feeling a little more in control. Dexter went for a 30 min run this morning while I bladed, hopefully he's good and tired and being a good boy at home today.
Last night we went out to dinner at California Vegan. I tried a new dish, the California Orange Chicken, it was so good. I love that place. Afterwards our friend Becca came over and brought the
L.A. Story
DVD with her. I can't believe I've never seen this movie before, if you live in or have spent any time in LA it is especially hilarious. It stars Steve Martin, and also has Sarah Jessica Parker and Marilu Henner.
I thought I'd share this picture of a particularly large and beautiful heirloom tomato, with Buddha for scale.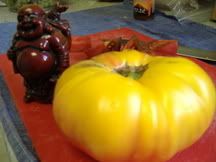 Hope everyone's week is off to a great start.