Falafel Follies
This weekend Jason and I tried to make the falafel recipe from VwaV. This is the second recipe for homemade falafel we've attempted recently, sadly both were complete disasters. As you can see it just completely dissolved in the oil and formed this lovely pile of grease crumbs. What a waste of time and food, I hate it when things turn out like that. I even had to do the processing in small batches in my tiny 2 cup capacity mini chopper, took forever.
Jason waves his spatula in discontent.
Plan B: Stuff pita with hummus and veggies, drink beer and forget the incident ever happened. Stick with the box mix from now on.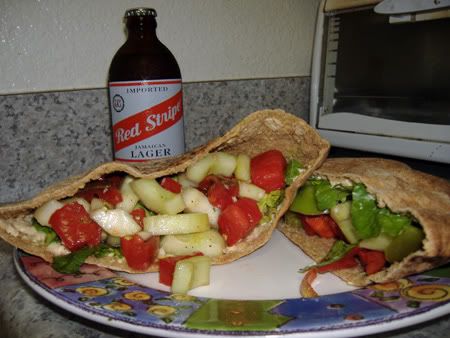 This incident reinforced my need for a food processor, so we picked one up at Target. This is me with my new best friend.
We decided to break it in by making an extra large batch of hummus. Life in my kitchen will never be the same again. Now if I only had a KitchenAid…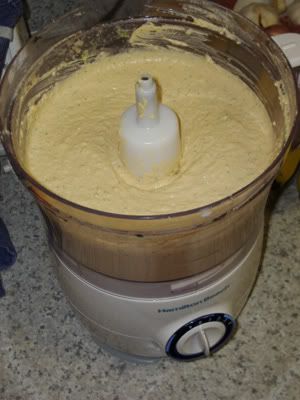 I got these cute little Indian eggplants at the market last Friday so I decided to try out a new eggplant recipe. I ended up making Baingan Bharta, the following recipe is a modified version of
this recipe
1 large eggplant or several smaller ones
1 T vegetable oil
1/4 t black mustard seeds
1 medium onion, thinly sliced
2 to 3 t fresh ginger, finely chopped
2 to 3 cloves garlic, finely chopped
Spices: 1 t cumin, ½ t coriander, ½ t turmeric, ½ t paprika, ½ t garam masala, seeds of 2 green cardamom pods ground in coffee grinder, ¼ t fennel seeds ground in coffee grinder
1 tomato, diced (I used a pretty orange heirloom tomato, helped give the final dish a pretty color)
1/2 cup plain soygurt (I used Silk brand)
2 to 3 fresh jalapeno chile pepper, seeded and finely chopped
½ to 1 teaspoon salt
1/4 bunch cilantro, finely chopped
Preheat oven to 450 degrees F.
Place eggplant on a baking sheet. Bake 20 to 30 minutes in the preheated oven, until tender. I used small eggplants and halved them before baking, they were very soft by 20 min. Remove from heat, cool, peel, and chop.
Heat oil in a medium saucepan over medium heat. Mix in mustard seeds and onion. Cook and stir until onion is tender. I personally like to caramelize and char my onions a bit, takes some patience but I think it really adds nice flavor.
Mix ginger and garlic, spices, and tomato into the saucepan, and cook about 1 minute. Stir in soygurt. Mix in eggplant and jalapeno pepper, and season with salt. Cover, and cook 10 minutes over high heat. You might have to scrape the bottom of the pan to get some burnt bits loosened; I just say any burning in this dish adds more flavor. Remove cover, reduce heat to low, and continue cooking about 5 minutes. Garnish with cilantro to serve.
It was pretty much reduced to an eggplant mush, but it was very tasty. I ate it with some baked sweet potato.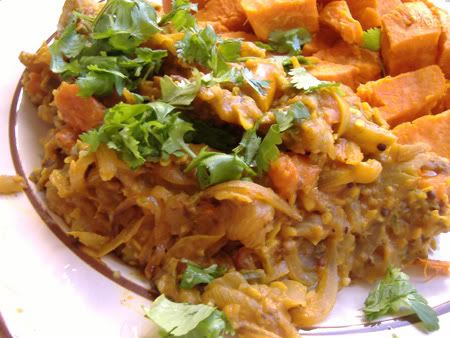 Some neighbors decided to welcome the new neighbors to the building on Saturday by having a cookout in the courtyard. Three units in the building have new tenants. Jason and I joined everybody when we returned from Maloney's where we watched the
Badgers win their first game of the season
(Woooohoooo! 35 – 14, take that Bowling Green!) Everyone seems very cool and understanding about our dog. They all have dogs too so Dexter even gets some new playmates. There was apparently still some beer leftover after the party so we helped out with that last night, and we even got breakfast cooked for us this morning. It kind of feels like I'm living in a college dorm now or something, but with more dogs and no one is actually in college. No complaints from me anyway.
We went to the produce market up the street and I found these beautiful juicy golden raspberries for just $1.99! I don't often buy fresh raspberries because they're usually so expensive, so these were a sweet treat.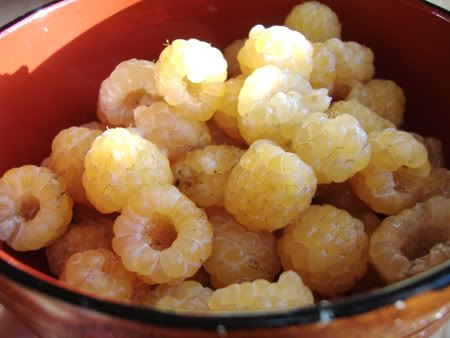 Finally, here's a little movie of Dexter and Sadie wrestling. They are so in love. :)
Hope everyone had a fun and safe holiday weekend!