Farmer's Market Friday
1 bunch spinach
1 bag green beans
1 bunch asparagus
2 red bell peppers
1 smooth green avocado (Looks like a Reed avocado, but I don't remember what the sign said)
2 Haas avocados
5 Fuji apples (yay, fall apple season)
1 cluster cherry tomatoes
2 yellow peaches
1 white peach
1 white nectarine
Total: $15.45
I just realized I am going to have to miss the
California Avocado Festival
this year because I will be in WI for my sister's wedding. Too bad they conflict, I got a whole lot of avocados and ate a lot of avocado stuff there last year. This was my personal stash.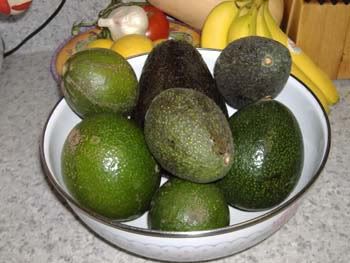 I looooooove avocados in case you didn't know. Anyone who can make the drive should, it's worth the trip.
I'm a little bummed about my shoulder today, I don't think I'll be going to pilates tomorrow. Guess I'll just have to drink beer and watch the Badgers vs. San Diego State game and suck it up.
Enjoy the weekend everyone.