by
Carrie™
of the House of Simon. Without further ado, 5 things I think everyone should eat before they die (provided they're over 21 for #1…ahem):
1. Beer! I like lots and lots of kinds of beer, being from Wisconsin I am partial to many of the brews of my homeland. For cheap beer I like Pabst Blue Ribbon, or "pibbers" as we like to call them. I am also fond of their old ad slogan "PBR me ASAP". Miller products are pretty good too if you're drinking on a shoestring. For higher quality stuff, I love a Hefeweizen served with a lemon wedge, or really any of the wheat brews. Hoegaarden makes a delicate white Belgian beer that's very refreshing, Fat Tire is another good Belgian one. Pyramid Hefeweizen is decent enough and pretty widely available.
My favorite microbreweries are
New Glarus
(that Spotted Cow is outta this world) and the
Great Dane
(Crop Circle Wheat and seasonal Pumpkin Ale are yummy!) The Dane was one of my favorite watering holes when I lived a mere 2 blocks away in college. Ah, the memories.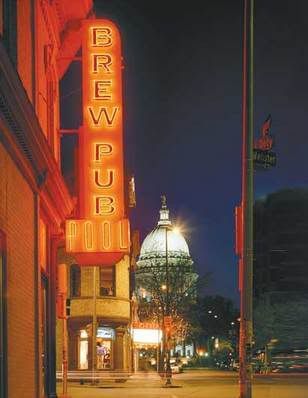 You can get
Leinenkugel's
(aka "Leinie's") in
some states
outside WI. I like the Red Lager and the Honey Weiss. I've been to houses where the dwellers had constructed furniture out of empty Leinie's original lager cases, so multi-purpose.
OK, I think we've covered beer in some small part. Hmm, on to food you chew…
2. Pizza! I can't help it, I just love it.
3. Fresh cherries. I will eat these till I turn purple during their brief season.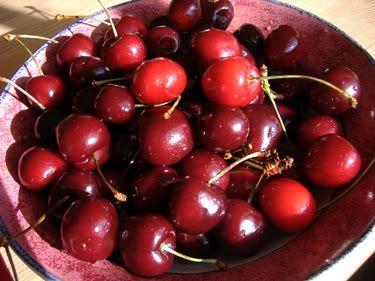 4. Indian cuisine. I know that's a class of food and not one food in particular, but the more Indian food I cook the more I realize how much I love it. Chana masala, curried potatoes, dal, naan, rice, veggies, I love my food drenched in spice and color!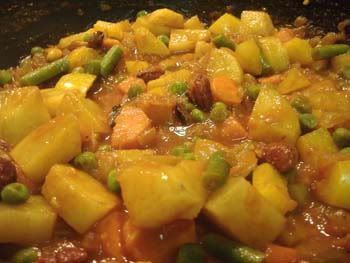 5. A good falafel sammich with all the fixings: tomatoes, cukes, chopped lettuce or spinach, olives, chips, hummus, maybe some tahina or tzatziki dressing. A good meal that sticks to your ribs.
It was hard to come up with just five, I really like food a lot! I like variety too, I would love to eat different foods every night if it wouldn't be so expensive and time consuming.
I think everyone in all of the internets has done this already. If you haven't, consider yourself tagged!