HAPPY CHANNUKAH!
OK, I give in. Finally a post. Sorry I am so lame, my temp job does not allow me to while away hours a day on the internet. Not that that's what I did at my old job (ahem). As you may be aware this is the 4th night of the festival of lights,
Channukah
. To celebrate I made the traditional latkes and a cheese blintz soufflé. Yes, very not healthy and very not vegan, but this is Jewish holiday food we're talking here.
Here's a picture of the lovely latkes frying in my cast iron.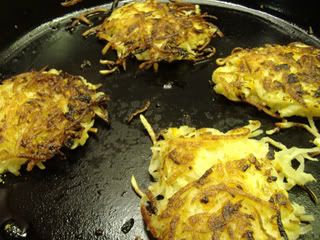 Traditionally served with sour cream and applesauce.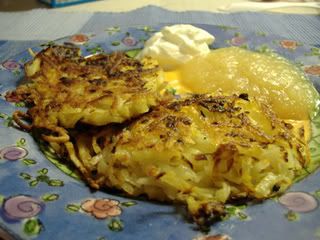 Here you can see the importance and symbolism of oil during this holiday. This bottle was full when I started up the frying pan. :P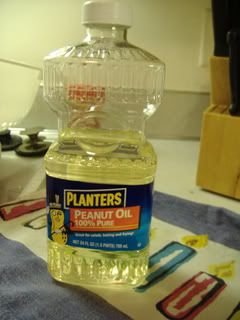 That's all for now. One of my many New Year's resolutions will be to become a better blogger. Happy Holidays to all, and to all a good night.