Soup + Mac n Cheez + Impossible Pie
Photographic evidence that I do in fact spend some time in the kitchen these days: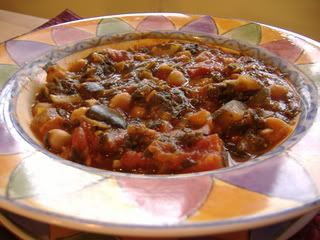 Originally posted by Glory87 over on the
3fatchicks.com
forums.
Spinach Chickpea Leek Soup
1 tbs olive oil
2 leeks, sliced thinly (circles)
1 zucchini, chopped
minced garlic (I use tons, about 5 cloves)
1 28 oz can tomatoes
small can tomato paste
1 bay leaf
3 3/4 cup veg broth
1 14 oz can chickpeas drained
block of frozen spinach (thawed, drained)
1 tbs oregano
1/2 tsp white pepper
1/2 tsp red pepper flakes
Heat the oil in a large sauce pan, add leeks and zucchini and cook briskly for 5 minutes.
Add the garlic, tomatoes, tomato paste, bay leaf, vegetable broth, chickpeas and spices. Bring to a boil and simmer 5 minutes.
Add spinach to the soup and boil for 2 minutes. Season to taste. The longer it cooks on the stove, the better it is, even better the next day. Remove the bay leaf, eat up!
One of the best soups I've ever made, and so easy! Next time I'll probably add a can of red kidney beans as well.
Here we have
New Farm Mac & Cheez
(mac & cheez from the New Farm Vegetarian Cookbook with modifications courtesy of Jess of
Get Sconed!
)
This is my first foray into cheez sauce. I gotta say, cheese it ain't, but as I was eating it I was able to start appreciating it for what it is.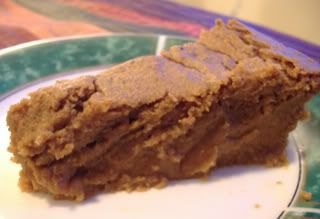 Impossible Vegan Pumpkin Pie
from the
FatFree Vegan Kitchen
. I made this for a dinner get together a few weeks ago and was pretty impressed. I tinkered with the sweetening (combo of powdered xylitol and liquid stevia extract) and I liked the sugar free version as well. Practically fat free, sugar free pumpkin pie, who knew?
Looks like a lot of heavy, cold-weather comfort food, huh? Well, we're under a winter storm advisory and there's about 6 inches of snow on the ground. Um, hello spring? Where are you?