Happy New Year!
I hope everyone had a fun and safe New Year's Even wherever you were and whatever you were doing. We had a very pleasant celebration at home with a few close friends, Chinese food, and plenty of champagne and other delicious refreshments.
Party Posse
I always feel like I should go out and make the big to do about NYE, but I find that most of the time that ends up being pretty disappointing, expensive, and let's not forget trying to get your own drunk ass home while dealing with other drunken jackasses.
If I have a new year's resolution, I guess it's to lose the rest of the weight I meant to lose last year, starting with the three pounds I've gained by merely residing in the state of Wisconsin (It has something to do with beer, cheese, fried food, osmosis, and maybe cookies. Do not ask me how, I do not know). I bet that's the #1 and most generic resolution, but a worthy cause nonetheless, so there it is. Also I need to find me a real job. The temp job is still working out fine for what it is, but I really hope the right permanent opportunity comes around soon.
Hey, remember when I said I was doing the
couch to 5k
running program? Well, I actually finished the nine weeks and was up to 30 minutes of jogging. That was around Thanksgiving, then it got cold and I started working again and I just sort of quit. It didn't take long for deconditioning to set in, so I restarted at the week four level and will be doing week five (again) this week.
One of the Chanukah presents I got for Jason was a pair of tickets to the Badger Hockey game last Saturday. We had a great time and the Badger's creamed the Providence Friars 5 – 0. It was a "free for all" game, which means all ticket holders get free ice cream from Culver's when the Badgers score 5 or more points. Free ice cream tastes the best :) Here's a few shots from game night.
I also took a couple clips of video. Little kids playing hockey is freakin' adorable. And much easier to record becuase they don't move so fast.
I just finished catching up on the
Capital One Bowl
on TiVo and wow, what a great game! I can't wait for next season, especially since the opening game will be part of Ben and Tosha's wedding weekend. I gotta say, it's good to be a Badger. Our basketaball team is doing great right now too, ranked 4th.
I hope everyone has a blessed and beautiful 2007, I have a feeling it's going to be a very good year.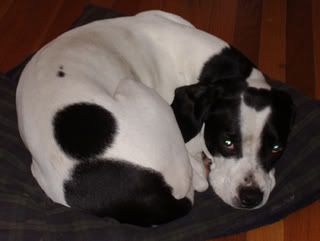 Party Animal